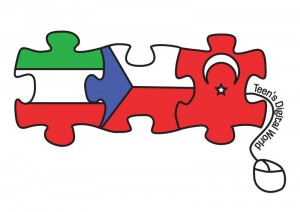 The project TEEN´S DIGITAL WORLD is developed by 3 schools from the Czech republic, Italy and Turkey.
The aim of the project is to make students aware of the global impact of the new technologies on our lives, encourage them to use the new on-line educational opportunities, creation of responsible e-commerce buyers, protected users of the Internet, social networks, new gadgets and devices, correct language users.
The planned working methods will involve the teenagers actively, encourage them to use digital technology and resources creatively and therefore prepare them for a better integration on the job market in the European countries.
Cooperation with foreign teenagers is entitled to motivate them to study foreign languages and at the same time improve information about the social and cultural backgrounds of the partner countries.